MateFit Press Releases - Teatox Sale for July 4th From Mate Fit Tea With Highest 32,000 Reviews From the Loyal Customers
Teatox Sale for July 4th From Mate Fit Tea With Highest 32,000 Reviews From the Loyal Customers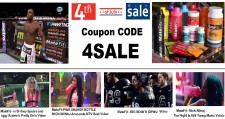 St.Louis, USA, July 4, 2016 (Newswire.com) - ​​​​​​​​​​​​​​Teatox Sale for July 4th From Mate Fit Tea with highest 32,000 reviews from the loyal customers. You can use coupon code for store wide 4SALE to get 20% OFF. #1 Teatox with #1 Reviews in the World, Free Ship in USA, 300K Loyal Customers and Made in USA also you can't beat the price, 14 day teatox regular price is $23.99 USD and for now on sale only for $19.20 USD after discount with coupon. You can choose one of the best selling product 14 Dayteatox : http://matefit.me/products/matefit-mini-teatox comes with 70 grams of MateFit Metabolic Boost and 35 grams of MateFit Detox. You can compare with other competitors. 
1) Flush away unwanted pounds and boost your metabolism
2) Reduce puffiness and bloating and enjoy a flatter abdomen, fast
3) Increase energy levels with the Metabolic Boost
4) Use both products together with healthy lifestyle to maximize weight loss results​
28 Days Teatox: ​http://matefit.me/products/matefit-ultimate-teatox 
According to the company, The company continues its customer-oriented enterprise, where it always makes it a point to offer their full line of products at prices without spending a fortune. Users can rest assured about MateFit's products and browse its extensive list of customer satisfaction reviews.
Smart Burn: http://matefit.me/products/smart-burn​​
​In

 the year 2014 MATEFIT® HERBAL TEA PARTNERS WITH UFC® 
July 16, 2014  Las Vegas, Nev. – MateFit®, a leading herbal tea manufacturer, proudly announced today a one-year agreement to be the official herbal tea partner of the Ultimate Fighting Championship® organization. The Missouri-based company sponsors UFC® superstars Benson Henderson and Chad Mendes among other notable athletes. 
See on the Floor Mat Sponsored by : MateFit.Me Benson Henderson​ UFC Fight Night Tulsa Judo Chop: The Refined Aggression of Rafael Dos Anjos​
MateFit will receive various signage and branding positions throughout UFC programming ranging from nationally televised FOX and FOX SPORTS 1 broadcasts to Pay-Per-View events. Additionally, MateFit will be featured prominently in the hallowed Octagon® throughout 2014 and on select UFC fighters' apparel. MateFitdebuted in the Octagon July 5 at UFC 175 on co-headliner Alexis Davis.
MateFit UFC Andrei Arlovski Octagon Interview 2014 September
Committed to ensuring a consistent supply of the quality health supplements to health conscious consumers, MateFit.Me is making the rounds these days, for all the right reasons. The health supplement store offers a variety of quality Teatox tea and Detox tea. It recently has expanded its product line with an assortment of new products like its Pre Workout Booster, Protein Powder, Fat Burn, carb blockers, conjugatedlinoleic acid, and fitness apparel. 
"MateFit premier offering, i.e. MateFit Teatox, brings together the goodness of MateFit Detox herbal tea and health benefits of MateFit Metabolic Boost herbal tea. Our new supplements product line ingredients are also herbal and vegan base," he continued. According the company, the quality of MateFit products are verified by more than 32,000 Loyal Customer Reviews.
As per the survey findings and charts based on BrightLocal.com it provide the following information.
88% Of Consumers Say They Trust On line Reviews As Much As Personal Recommendations
88% of consumers say they trust on line reviews as much as personal recommendations 
Only 13% said they do not trust reviews as much as personal recommendations 
For nearly 9 in 10 consumers, an on line review is equally as important as a personal recommendation. With word-of-mouth still the most popular way of recommending a local business, this stat highlights the value of a positive review.
However, this trust comes with a caveat. There is almost a 50/50 split in what drives trust for this 88% of consumers. For one half, this trust will only be granted if there are multiple reviews to read. For the other half, this trust is dependent on the reviews being authentic. In this case, quality is equally as important as quantity.
The subject of fake reviews has had a lot of news coverage and is clearly in the consciousness of the average consumer. It's likely that they will only become more discerning in their trust of reviews as this issue becomes more prevalent.
So , the bottom line is having a product with thousands of reviews proves how the

MateFit

 

teatox

 and other products work , and the service you are getting from the company.
About MateFit: In just a few years since its inception, MateFit is proud of its position as a forerunner in its niche market, which has no room for faulty compositions, or less than perfect health supplements. Based in US, MateFit has now become a reliable destination for those individuals who wish to purchase MateFit teatox tea, detox tea, other supplements, and fitness apparel on line.​
Contact Information: 
MateFit.Me
​pr@matefit.press
USA
Website: http://matefit.me/​
Source: MateFit.Me